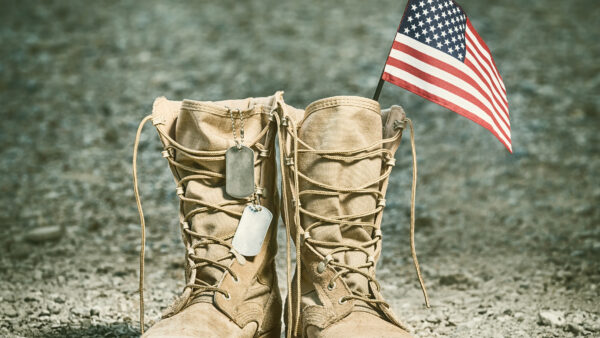 CHAMBERSBURG – While many people may assume war-related trauma is responsible for most military veteran suicides, the stigma associated with seeking mental health care and civilian life crises often precipitate these tragedies.
That is what the Senate Veterans Affairs and Emergency Preparedness Committee, chaired by Sen. Doug Mastriano (R-33), learned Thursday during a public hearing about veteran suicide held at Chambersburg VFW Post 1599.
"America is militarily superior when it comes to winning wars abroad, but our country needs to do more to win the war at home for the lives of our veterans," Mastriano said. "One veteran suicide is too many and the numbers we see in Pennsylvania constitute a tragedy. We need our veterans to know that help is available and suicide is a permanent solution for a temporary problem."
The United States Department of Veterans Affairs in 2018 estimated approximately 20 veterans die by suicide each day. There were 240 Pennsylvania veteran suicides in 2020 according to the department's data.
Committee members heard tear-filled testimony from family members of military veterans who took their own lives.
"I cry every day in the shower," said Bruce Bartz, whose son, Trent Bartz, served as a corporal in the U.S. Army Reserve before he took his own life on Aug. 19, 2015. "A lot of veterans are afraid to talk about mental health issues because of the stigma. Suicide, mental illness, depression and anxiety are the only diseases that we blame the person for having. People die from suicide just like they do from any other disease, but we blame them. One of the best ways to bring awareness to our mental health crisis is hearing testimonials like this."
Gold Star Father Mike Wargo and Gold Star Mother Sarah Wargo shared the story of their son, Michael, who joined the military after Sept. 11, was deployed to Afghanistan in 2003 and witnessed the death of 10 of his fellow soldiers. He struggled with survivor's guilt, suffered night terrors and ended his own life on May 20, 2013. Michael left his parents a four-and-a-half hour video describing his experiences in Afghanistan, which they used to prove his death was related to his military service and secure benefits for his daughter.
"We need to convince veterans that it's OK to ask for help," Mike Wargo said.
Elizabeth Cooper – a U.S. Army combat veteran – serves as a veterans representative with PA CareerLink, Franklin County. She discussed suffering from anxiety, depression and post-traumatic stress disorder (PTSD). Cooper detailed how staying home during the COVID-19 lockdown took away regular distractions and left her alone with her thoughts and memories. Despite her prior employment as a corrections officer trained in crisis and suicide prevention, she found herself battling the same issues she was trained to help others overcome.
"These ailments were not derived from war," Cooper said. "They were derived from life."
Cooper found help in the form of a volunteer peer support group, where she could share her struggles and receive encouragement from fellow female veterans who experienced their own life difficulties. She advocated for the benefits of peer support groups, saying they can play a pivotal role in the fight against veteran suicide.
The committee also heard from Dom Brown, a suicide attempt survivor who joined the Army when he was 17 years old. Brown served three tours of duty in Iraq and was deployed to various other countries – including Kuwait, Nicaragua, Honduras and El Salvador, among others – during his 16 years in the military.
Brown testified about feeling overwhelmed and attempting suicide when he was suffering from PTSD, caring for his newborn child and, ironically, studying for a soldier of the year award. He took more than 60 Trazadone pills before a friend took him to the hospital, where he spent 30 days in a coma. He now shares his experience with others to raise awareness and serves as a peer support mentor with the Wounded Warrior Project.
Operation Second Chance Founder Cindy McGrew testified about the various programs and services her nonprofit organization provides to help veterans struggling with mental health issues. She talked about several veterans who attended her organization's programs and later told her they were considering suicide before they attended an Operation Second Chance event.
"We just love on them," McGrew said, describing her organization's approach to helping veterans. "We give them the dignity they so deserve."
Franklin County Veterans Affairs Director Justin Slep described some of the programs he and his staff have implemented since he accepted his position in 2014. He discussed the Save-a-Vet, Save-a-Pet program that matches veterans with service dogs. He also mentioned a transportation program the office is working on to help veterans travel to health appointments across state lines. Slep said they have acquired a wheelchair-accessible van and are working with rabbittransit to find a driver.
Retired Brig. Gen. Maureen Weigl, deputy adjutant general with the Pennsylvania Department of Military and Veterans Affairs, and Brig. Gen. Laura McHugh, deputy adjutant general with the Pennsylvania National Guard, testified about programs and services available to help veterans struggling with mental health issues.
Weigl said the Pennsylvania National Guard experienced 84 suicides dating back to 2007.
Veterans in crisis or their family members can contact the Veterans Crisis Line by dialing 988. Free and confidential support is available 24 hours per day, seven days a week.
A list of suicide prevention programs and initiatives is available on the Pennsylvania Department of Military and Veterans Affairs website.
Constituents of the 33rd District can learn more about Mastriano by visiting his website at SenatorMastriano.com or following him on Facebook at Facebook.com/SenatorDougMastriano.
Media contact: Josh Herman
717-787-9603