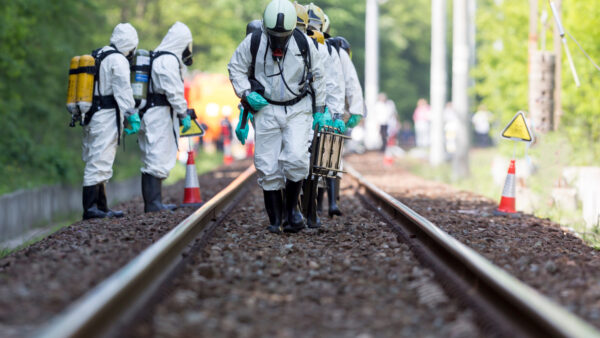 Train company CEO's appearance delayed to March 20
HARRISBURG – The Senate Veterans Affairs and Emergency Preparedness Committee, chaired by Sen. Doug Mastriano (R-33), Wednesday approved a resolution and two bills, including one to provide financial help to Pennsylvania businesses and residents impacted by the Feb. 3 Norfolk Southern train wreck in East Palestine, Ohio.
"This is a one-time grant program specifically designed for the people affected by the Norfolk Southern train wreck," Mastriano said. "It's one part of what needs to be a comprehensive effort to help these Pennsylvanians."
The committee approved Senate Bill 508, introduced by Mastriano, to require the Pennsylvania Emergency Management Agency (PEMA) to create the Train Derailment Emergency Grant Program, establish an application and approval process, and disburse funds to eligible Pennsylvanians.
Grant money would be provided to individuals to cover medical bills; loss of income; property value decreases; expenses related to repairing, cleaning and decontaminating homes and property; and the temporary or permanent cost associated with relocating.
Businesses could receive grants to pay for the loss of value of their business; property losses; expenses related to the train wreck; the cost to repair, clean and decontaminate their property; or relocation expenses.
"We fully expect Norfolk Southern to pay for the costs local residents are incurring as a direct result of this company's train wreck," Mastriano said. "These people didn't ask for this and they should not have to pay for Norfolk Southern' s failure."
The committee also passed Senate Resolution 59, introduced by Mastriano, calling on Congress and the U.S. Department of Transportation to hold Norfolk Southern accountable for the train wreck.
The committee at its March 1 meeting approved a subpoena compelling Norfolk Southern CEO Alan Shaw to appear before the committee for a public hearing originally scheduled to coincide with Wednesday's meeting.
Shaw testified before Congress on March 9, so his appearance before the Senate Veterans Affairs and Emergency Preparedness Committee has been postponed until Monday, March 20, at 10 a.m. The committee will hold a hearing that day in Room 8-EB of the Main Capitol, Harrisburg.
The committee at Wednesday's meeting approved another subpoena compelling Shaw to appear on March 20. It further calls on him to provide detailed documentation related to the company's response to the East Palestine train wreck.
"We were hopeful the Norfolk Southern CEO would appear in front of the committee today," Mastriano said. "The people of Pennsylvania deserve answers and will finally get them on March 20. In the meantime, this committee is taking action to provide direct relief to affected residents and improve emergency responses in the future."
The committee also approved a measure, Senate Bill 433, that would enable the Senate to confirm or reject the governor's appointee to serve as PEMA director.
Both bills and the resolution now head to the full Senate for consideration.
Constituents of the 33rd District can learn more about Mastriano by visiting his website at SenatorMastriano.com or following him on Facebook at Facebook.com/SenatorDougMastriano.
Media contact: Josh Herman
717-787-9603